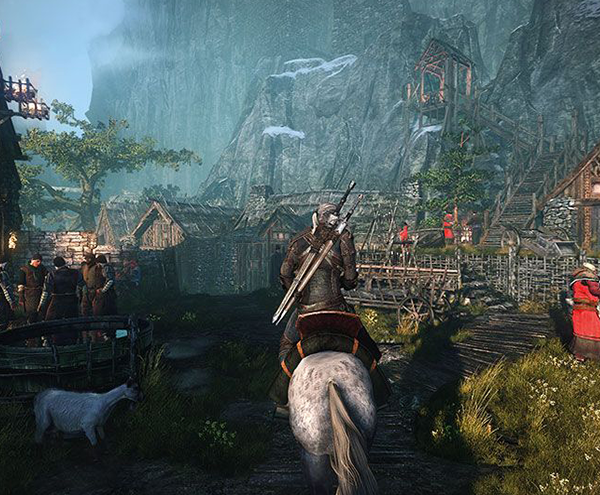 Witcher 3 Cheat Engine, Console Commands & Cheats
Download Witcher 3 Cheat Engine, Console Commands & Cheats for FREE
The Witcher 3: Wild Hunt has been around since 2015. This action role play game from CD Projeckt RED draws heavily from the novels by Andrzej Sapkowski, giving you a solid storyline that is not only easy to follow but also highly satisfactory. The open world setting and third-person perspective set Witcher 3 on a different pedestal, giving you the freedom to not only explore new locations every time you launch the game but also making the use of Witcher 3 cheat engine, hacks, and tricks more rewarding.
Since Witcher 3 is a single player environment, no one really cares if you cheat. Actually, you won't be banned for cheating. Multiplayer games like Overwatch or Battlefield 1 will attract strict penalties since cheating gives you an undue advantage over other players.
Witcher 3 1.31 cheat engine Download and Installation
To use these, you will need to set up cheat engine and know how to use it. Cheat Engine is a program that alters your game as you play. It isn't really installed. All you need is the right files on your PC. You can use my detailed cheat engine beginner guide to download the installer and learn how to get started with it. 
How to Use Cheat Engine in Witcher 3
Navigate to the cheat engine folder and launch cheat engine
Start The Witcher 3 game
Press ALT+TAB to activate the Cheat Engine window
Click the First Icon and then 'select a process to open.' Look for witcher3.exe, select it and click open
Click on the next icon to activate the cheat table explorer or press CTRL+O
Load the cheat table you downloaded and head back to The Witcher 3 game to implement the cheats you just activated
Even though you can find your own cheats by exploring the game with the Cheat Engine on, it is always easier to use Witcher 3 cheat engine tables and trainers. These have a complete set of commands all ready for import and exploitation.
Witcher 3 Teleport cheat table 
Witcher 3 all in one cheat table
Player Cheats
Infinite Health
Infinite Stamina
Infinite Breath
Instant Kill
Deplete Enemy Stamina
Teleport Cheat
Save Location ( Ctrl + Numpad 7 )
Go To Saved ( Ctrl + Numpad 8 )
Go To Waypoint ( Ctrl + Numpad 9 )
No Clip (Numpad 7 to go up, Numpad 9 to go down, WASD to go around)
Time Of Day Cheat
Toggle HUD Cheat
Hide HUD
Toggle HUD (No Steps)  – Hide HUD
Using the Teleport Cheat
Once you have taken all the steps needed to activate the Teleport Cheat, you can add a value to set your waypoint. Remember to move around with WASD keys after hitting the Waypoint hotkeys in Witcher 3 to activate the kick.
Finding the sweet spot is a matter of trial and error. Begin testing by setting the Waypoint to say 1 and hit the hotkey. If this doesn't get you where you want, you can change to 0.5, 1.5 or 2.0 and so forth.
Using the Toggle Hud Cheat
Don't rush to activate the cheat after installing it as this will make it fail. Make sure that your map is first loaded and set HUD Size to Large and then turn Control Hints off. Head back to the game and walk around some few steps.
Activate the Witcher 3 cheat HUD cheat and head back to the game to 'Hide HUD' You can also use the tab key to enter the screen with a wheel in it. Leaving this screen will make the HUD disappear. Entering and living this menu will toggle the HUD on and off.
The only setback for using the Toggle HUD cheat in Witcher 3 is that you will lose a lot of random things from your inventory when you pull the cheat.
The Witcher 3 Trainer 1.31 (+32 by LinGon)
The Witcher 3 trainer gives you some extra features that you won't get from the cheat engine cheat tables. Setting up the LinGon trainer is easy as long as you follow the instructions in the installation manual.
You can get the Witcher 3 Trainer 1.31 here
Some of the important things to consider before installing The Witcher 3 Trainer 1.31 include:
Run the trainer in admin mode (right click and choose run as admin)
Close necessarily background application to minimize the chances of an unexpected interference (trainers are rarely well tested and could easily infringe memory space allocated to other apps hence causing havoc)
Don't use in a game in a virtual environment
Install the .net framework v4.5 and above
Install Microsoft Visual C++ Redistributable x86
The Witcher 3 Trainer 1.31 Hotkeys
Always ensure that you start the game first before running the trainer. Allow the game to run in window mode so that you can easily minimize it. The faster alternative would be pressing ALT+Tab when running the game.
HOME Key
Trainer Activation HotKey
F1 – Infinite Health
Keeps you alive and well in most situations
F2 – Infinite Oxygen/Breath
Your oxygen/breath while under water won't run out
F3 – Infinite Power/Stamina
Your stamina is filled at all times
F4 – Infinite Adrenaline
keeps your adrenaline at max all times
F6 – No Toxicity
while active this will remove your toxicity
F7 – Add Orens/Money By 5000
Each press should increase your current orens/money
F8 – Add Upgrade Points By 10
Each press should increase your current upgrade points by 10
Note you need to enter the player's inventory first for this to work
F9 – Set 0 Upgrade Points
Removes all upgrade points
Note you need to enter the player's inventory first for this to work
F10 – Add EXP By 10
Each press should increase your current experience by 10
F11 – Add EXP By 100
Each press should increase your current experience by 100
End Key
Infinite Horse Stamina
Your horse stamina will be max at all times
Delete Key
Low Horse Fear
Your horse fear status will be very low
CTRL+ V
Infinite Weapon Duration
your weapons last forever
CTRL+ 
Set Low Weight Carried/No Overburdened- Allows you to set a very low carried weight amount, leaves a very little chance to get overburned.Note: that if you are already overburdened, enable this and then either drop 1 single item or sell 1 and your overburdened status should be gone.
= 1140 ) {document.write('Loading…]]>
');
instant= new adsenseLoader( '#quads-ad1-place', {
onLoad: function( ad ){
if (ad.classList.contains("quads-ll")) {
ad.classList.remove("quads-ll");
}
}
});
}if ( quads_screen_width >= 1024 && quads_screen_width Loading…');
instant= new adsenseLoader( '#quads-ad1-place', {
onLoad: function( ad ){
if (ad.classList.contains("quads-ll")) {
ad.classList.remove("quads-ll");
}
}
});
}if ( quads_screen_width >= 768 && quads_screen_width Loading…

Get Overwatch hacks for free on freecheatsforgames.com